I wasn't particularly patriotic until I sat down to watch the concert dedicated to the Queen for her Diamond Jubilee. The event was sensational to watch from my living room, I can't even begin to imagine what the atmosphere was like for the people who were lucky enough to see it live. Besides the music and the beauty of the projection mapping & the fireworks, I loved the outfits that the acts were wearing, they pulled off the obvious British theme very well.
Kicking off the concert was Robbie Williams who showcased his British pride in a black military style suit whilst singing alongside a huge brass band. The initials on the suit finished the outfit - a typically 'confident' choice by Robbie.
When Robbie ran on the stage I thought he looked pretty good but then came the adorable Will.I.Am, the American musician showed his undoubted love for Britain in a traditional yet edgy red and gold military number. He was named the worst dressed at the Glamour Awards but I absolutely love the clothes Will wears, especially after watching The Voice. Alongside Will.I.Am came The Voice co-judge Jessie J. She graced the stage in a stunning black sheer dress adorned with gold, silver and blue embellishments but what I really loved were the black and gold heels she was wearing. They really stole the show where Jessie's outfit was concerned, definitely an investment I would be more than happy to make... I'll keep dreaming.
I can't say my fellow geordie girl Cheryl looked as fabulous as the others, her sequinned black dress didn't really do it for me, she couldn't move in it which limited her stage performance and I thought it was a bit formal, if not boringly bland compared to everybody else's outfits. However, those earrings - or chandeliers - that Cheryl was wearing were beyond gorgeous. Kylie on the other hand, was in full British spirit in her slinky military outfit kitted out with shiny white pearls. Her glittered roman army of backing dancers completed the look, I couldn't take my eyes off the TV screen.
Now, I don't care what anyone else says Elton John and Cliff Richard were looking dapper in their glittery numbers. Cliff in a salmon suit with a gold glitter tie and sparkly shoes and Elton John in a spectacular bright pink glittery tail jacket with matching pink tinted glasses. They might be getting on a bit, but Elton and Cliff haven't lost it yet.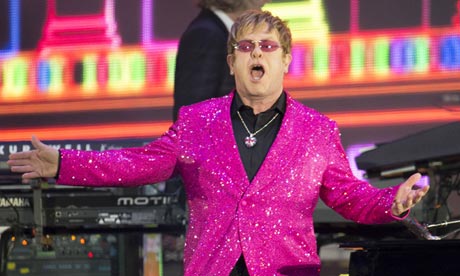 Alongside everyone looking fabulous, I thought the whole event was absolutely stunning, I felt ridiculously proud to be British. Britain really does do it best.